Toolkits
Video Otoscopes - Advanced Monitors TV-200X
Advanced Monitors TV-200X Video Otoscope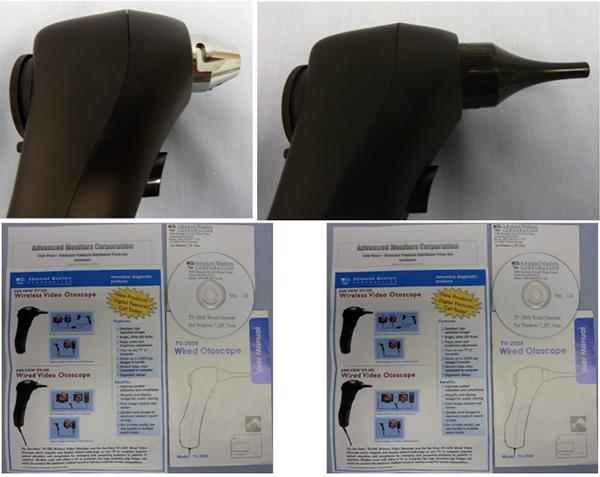 Product Name

Advanced Monitors TV-200X Wired Otoscope

Model Name/Number

TV-200X Wired Otoscope

Distributor

MSR Northwest

17528 W. Main St. / PO Box 156

Monroe, WA 98272

Manufacturer

Advanced Monitors Corporation

7098 Miratech Dr. Suite 130

San Diego, CA 92121

Warranty

Free from manufacturing defects for 1 year from the date of purchase by the original purchaser.

Product Description:

Light Source Dimensions

N/A

Camera/Probe Dimensions

L 170mm x W 40mm x H 80mm, 7. 2oz or 213g

Number of Parts

TV-200X, User manual, software drivers, USB wall adaptor, USB Cable, 6ft video extension cable, Video capture card adaptor, 5 specula, wrist strap.

Cables Included

Video, USB

Overall Type of Video Otoscope

Handheld Integrated

Speculum Type

5 included with unit (7mm, 4mm, 3mm, 7mm special, 4mm special)- Each can be reused at least 5 times when cold sterilized between uses.

Inputs, Outputs, and Buttons:

On/off switch and image review mode switch button, Image capture button, focus adjustment knob, Increase zoom and Brightness, Backward Review Switch, Decrease zoom and brightness, forward review switch, Brightness/Zoom mode switch, TV output setting button (NTSC down, PAL up). USB capture card terminal.

Features

Digital Zoom, Brightness control (7 levels), real-time imaging, Image Capture, focus

Connections

Video, VTC or PC

Optics:

Focus

Manual focus dial. Focus Range 30mm ~ 10m from object to lens.

Zoom

The range varies according to the size of the monitor (22" maximum 80X)

Image Capture

Button located on hardware & by software

Video:

Video Standard

NTSC or PAL, device has switch to change between modes.

Camera Sensor

½ CMOS sensor or 2 megapixels

Video Outputs

S-Video, USB

Memory

1 GB micro SD memory storage installed.

Power:

Power Source

Power Cord

Power Consumption

3.6V

Battery Type

Internal 1 Li rechargeable battery (3.7V/1000mAh). Charge with USB cable to a computer or the wall adaptor. Normal charging time is 5-6 hours. Battery can be replaced.

Standards/Approvals/Safety:

CE, CSA

Light Source:

Illuminator

5 white LEDs

Blub Life

lifetime

Miscellaneous:

Software Description

Software Drivers utilized by the Mini USB Capture Card. System Requirements: CPU Pentium 4 2.4GHz or higher, Memory 512MB or more recommended, OS: MSWindows XP, Windows Vista, Windows 7. Disk Space 1GB. Graphic Card 1024x768 Direct X 9.0c graphic card, CD or DVD ROM for installing the driver and application. One available USB 2.0 port.

Care and Maintenance

Keep out of reach of children. Do not attempt to disassemble or modify unit. The Otoscope shouldn't be used where it may come in contact with water or with wet hands. When turning unit on/off avoid holding power button greater than 10 sec to prevent malfunction. Avoid dropping, hitting, or high vibrations to unit. Do not remove the micro SC card. Do not use the Otoscope while charging the unit.

Suggested Cleaning Procedure

Wipe down with alcohol. Speculum can be dipped in disinfectant. Cannot be autoclaved.

Transportation and Storage

Do not store in the following situations as they can cause the unit to malfunction: high temperatures, high humidity, extreme fluctuations of temperature and humidity, direct sunlight, in a hot car, near an air conditioner or humidifier, in a location that has a lot of sand, dust or dirt, near fire or near water. Do not subject Otoscope to impact or high vibrations as it can damage the unit.

TTAC Evaluation Information:

Power Source For Camera

Battery powered (charges via USB)

Unit Power Source

Battery powered (charges via USB)

Power Source For Light

Battery powered

Light Source

Tip LED

Cable Length (Measured from Otoscope Tip to Light Source)

video 87" and USB cable 70"

Pediatric Use

No

Insufflation

No

Rod Probe Component Present?

No

Support Flexible Scopes

No

Speculum Description

Proprietary

Viewing Angle as Measured and Calculated by TTAC

Viewing angle with speculum cover on = 8°, Viewing angle with speculum cover off = 10°

Depth of Field (Very Good, Adequate, Poor)

Poor

Focus Ring Tension (Very Good, Adequate, Poor)

Adequate

Fine Grain Control (Very Good, Adequate, Poor)

Very Good

Lighting (Very Good, Adequate, Poor)

Adequate

General Notes On Device-S-Video

Unit set at zoom level 1.0. Hooked up to composite input on the imperix card, attached to the PC. No insufflation on this unit. Speculum cover limits the field of view while unit is being digitally zoomed. Feels good in the hand.  Narrow depth of field. Clear buttons, Not much utility to utilizing the zoom function. Difficult to power on and off. Has capture switch located on the unit.

General Notes On Device-USB

Images are captured on the unit and then retrieved as images off a USB device using unit USB drivers. USB cable very sensitive related to charging.  The clicking action causes motion and blurry images. This device has major problems with cords connecting.  images can be captured and stored in the unit. USB connector immediately had problems making connections.