Toolkits
Video Otoscopes - Aurical GN Otocam 300
Aurical GN Otocam 300 Video Otoscope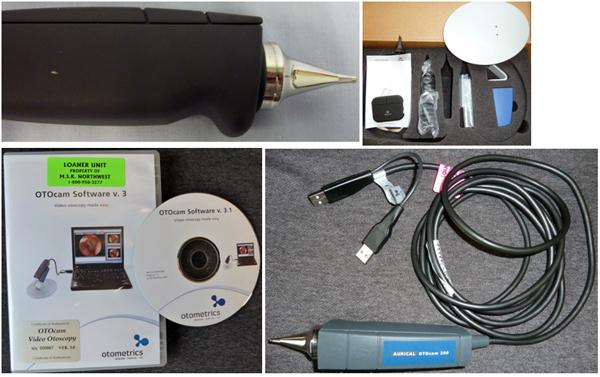 Product Name

Aurical OTOcam 300 Video Otoscope

Model Name/Number

Aurical OTOcam 300

Distributor

GN Otometrics A/S

Manufacturer

GN Otometrics A/S
2 Dybendalsvaenget,DK-2630 Taastrup, Denmark

T: +45 45 75 55 55, F:+45 45 75 55 59
www.otometrics.com

Warranty

2 yr

Product Description:

Light Source Dimensions

N/A

Camera/Probe Dimensions

Length without cable 170mm± 5mm, weight including cable 320g ± 10%, largest diameter 45mm,distal diameter 3mm +0.10mm

Number of Parts

3-Video Otoscope, cradle, optional wall power cord adapter

Cables Included

Attached double USB, optional wall power cord adapter

Overall Type of Video Otoscope

Handheld Integrated

Speculum Type

Single use- Speculum with and without cerumen management provided by the manufacturer/ distributer.

Inputs, Outputs, and Buttons:

Right ear button and Left ear button save images as right or left ear images when simultaneously running the software. USB 2.0

Features

Built in heater

Connections:

USB 2.0-PC

Optics:

Focus

Automatic, preset

Zoom

None

Image Capture

Right and left ear freeze buttons located on the unit

Video:

Video Standard

Camera Sensor

Sensor CCD matrix with micro lenses, mosaic filter 1/3"

Video Outputs

USB 2.0

Memory

None

Power:

Power Source

USB power cable-USB 2.0, up to 500 mA per USB port

Power Consumption

Camera: 315 mA±20%, Pre-heating: 235 mA±10%, Illumination: 490 mA±20%, Standby: 80 mA±15%. Total power consumption: Max 3.8W ± 10%

Battery Type

None

Standards/Approvals/Safety:

C & US UL, CE, IEC Class II

Light Source:

Illuminator

2 LEDs, fibre-optic light guide, min. 40000 lux after cold starting, defined for 10mm working distance

Blub Life

Approx 500 hours, approx 8 years

Miscellaneous:

Software DDiescription

OTOcam Software Module allows for image capture, image viewing, and image annotation. Requires 1.5GHz Pentium IV CPU or better with minimum 1GB RAM and 64MB graphics memory. Windows XP w/ SP2 or higher and Windows Vista 32bit with SP1.

Care and Maintenance

Do not stare into the light beam or point it in the direction of other people's eyes. The intended use of the AURICAL OTOcam 300 is intermittent operation 4 min. / 50%, which means that the camera should not be used for more than 4 minutes at a time and then it should rest in the cradle for an equivalent amount of time. Place the OTOcam in the base when you are not using it, it will activate the built-in heater to pre-heat the camera tip, so that the difference in the camera tip temperature and the ear canal are minimal. When the software is running, the right ear button saves images as right ear and the left ear button saves images as the left ear. You can use the OTOcam with or without the supplied software, if used without images/videos can be saved using windows software. Snap the specula on and off, dispose after a single use.

Suggested Cleaning Procedure

Disconnect the OTOcam from the computer. Wipe the camera head, the plugs and the cable with a soft cloth or sponge with a non-alcoholic cleaning agent. If the glass surface of the lens is very dirty, use a cotton pad with alcohol to clean. After cleaning, remove the cleaning agents thoroughly by rinsing with pure, deionized water. Finally, carefully dry the OTOcam and the glass window of the lens with a soft cloth. Chemical Disinfection: follow instructions of the disinfectant manufacturer for concentration, duration of immersion, and appropriate handling. Immerse the OTOcam and camera cable into the disinfectant. Make sure that all surfaces to be disinfected are covered by the disinfectant. To increase efficiency you can add an additional cleaning agent which is compatible with the disinfectant. After the disinfectant, rinse the OTOcam and cable thoroughly using sterile deionized water. Finally, dry all parts using a sterile, soft cloth or pressurized air.

Transportation and Storage

Operating: +10°C to +35°C. Storage: +10°C to +60°C. Air humidity 30% - 90%, non-condensing; please allow 1 hour to become acclimated. Air pressure 860hPa to 1060hPa.

TTAC Evaluation Information:

Power Source For Camera

USB power source (2 plugs)

Unit Power Source

USB power source (2 plugs)

Power Source For Light

USB power source

Light Source

LED with fiber optic light guide

Cable Length (Measured from Otoscope Tip to Light Source)

121", data/power cable

Pediatric Use

No

Insufflation

No

Rod Probe Component Present?

No

Support Flexible Scopes

No

Speculum Description

Proprietary OTOcam

Viewing Angle as Measured and Calculated by TTAC

62° with and without speculum

Depth of Field (Very Good, Adequate, Poor)

Very Good

Focus Ring Tension (Very Good, Adequate, Poor)

N/A

Fine Grain Control (Very Good, Adequate, Poor)

N/A

Lighting (Very Good, Adequate, Poor)

Very Good

General Notes On Device

Otoscope cradled for 5 minutes before use. Right ear button depressed for imaging. Unit USB, captured using software. Unit only works for 4 min at a time. No pediatric speculum.  Cable length 121" Requires proprietary ear speculum. Requires base to turn the unit off. Angle of the speculum doesn't allow for full insertion into the ear. Would not work for children's ear canals. Automatic focus. Had right ear and left ear image capture buttons on the handle. Requires a shut down every 4 minutes. Unit prone to getting hot external temperature. Comes with a wallwart and convertor for computers that do not have USB 2.0 (powered USB hub). No insufflation. Not sensitive to movement during image capture.