Toolkits
Video Otoscopes - MedRx Deluxe
MedRx Deluxe Video Otoscope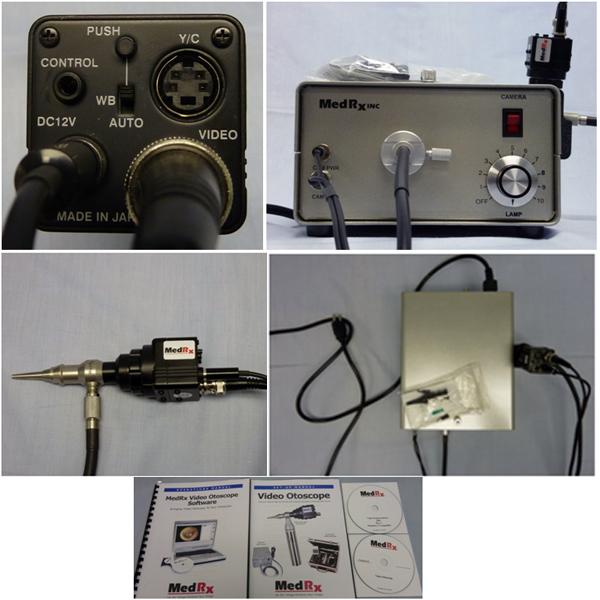 Product Name

MedRx Video Otoscope

Model Name/Number

Deluxe Video Otoscope System

Distributor

MedRx, Inc.

1200 Starkey Road #105

Largo, FL 33771

Manufacturer

MedRx, Inc.

Warranty

Material and workmanship for 1 yr from the time of purchase.

Product Description:

Light Source Dimensions

7.5 in W x 9 in Deep x 5 in H

Camera/Probe Dimensions

153g, 42mm (W) x42mm (H)x 53mm (L)

Number of Parts

4- Otoscope probe with High-Res camera, fiber optic cable, external light source, twin lead cable, optional USB Video Capture Cables.

Cables Included

2 cables- 1 fiber optic  & 1 connected cable power cable & data cable

Overall Type of Video Otoscope

Probe & Box

Speculum Type

MedRx brand, reusable

Inputs, Outputs, and Buttons:

Camera In, Camera Out, Camera power button, camera power cord input, Camera power input, Light intensity dial. On camera head: White Balance (Automatic and Manual adjustments), S-Video Out, Power Input & Camera input.

Features

Auto Focus, Light Intensity adjustment.

Connections

Video & VTC

Optics:

Focus

Automatic

Zoom

None

Image Capture

No buttons

Video:

Video Standard

Camera Sensor

1/3" pick up element, 420k pixel CCD

Video Outputs

BNC to RCA adaptor included

Memory

None

Power:

Power Source

Power cord

Power Consumption

12V DC +/- 10% voltage requirement

Battery Type

None

Standards/Approvals/Safety:

CE

Light Source:

Illuminator

21 volt, 150 watt halogen bulb, minimum intensity 750 FC at 1"

Blub Life

Approximately 200 hours

Miscellaneous:

Software Description

MedRx Video Otoscope Software

Care and Maintenance

Clean ear wax from ears prior to probe insertion. Always use a speculum on the probe. The video Otoscope incorporates glass lens, any impact or crushing to the tip may cause serious damage to the instrument.

Suggested Cleaning Procedure

Clean speculum or replace between patients per accepted medical practice. Prior to insertion of probe, hold the probe 1/4" from finger and check lens. Clean vigorously with alcohol wipe to cleanse the lens or a common disinfectant. Wipe exterior with a soft cloth. Stubborn stains can be removed using a damp cloth with mild detergent. The video Otoscope may be wiped with the following surface cleaners to disinfect: 75% alcohol, chlorhexiderm, cidex, nolvasan, parvocide, parvosol, roccal, or synphenol. Should never be sterilized, gas sterilized or soaked in liquid because damage may result.

Transportation and Storage

Probe tip cover should be retained and used for additional transportation protection of the videoscope optics while in or out of the case. Use original packing to transport. Store in a cool dry place, not in direct sunlight. Protect from shock, moisture damage, and mishandling. Do not place heavy objects on the system components. 10° to +40° C operating temperature.

TTAC Evaluation Information:

Power Source For Camera

AC power with internal DC converter

Unit Power Source

AC power with internal DC converter

Power Source For Light

AC power with internal DC converter

Light Source

Halogen bulb in light box with fiber optic light guide

Cable Length (Measured from Otoscope Tip to Light Source)

2 cables- 1 (fiber optic 82") & 1 connected cable (power cable101" & 1 data cable 101")

Pediatric Use

No

Insufflation

No

Rod Probe Component Present?

No

Support Flexible Scopes

No

Speculum Description

Proprietary speculum

Viewing Angle as Measured and Calculated by TTAC

74° with and without speculum

Depth of Field (Very Good, Adequate, Poor)

Very Good

Focus Ring Tension (Very Good, Adequate, Poor)

N/A

Fine Grain Control (Very Good, Adequate, Poor)

N/A

Lighting (Very Good, Adequate, Poor)

Very Good

General Notes On Device

Connected by Composite video signal to the capture card. Two cables out the back, one out the front. Looks clumsy, feels ok in the hand. Camera box swivels to give potentially variable image orientation. Auto focus. Fiber optic cable not removable. Camera  dock on light box awkward. Loud fan. Rheostat controlled light intensity. Light is powered on and controlled separately from the camera unit. Size of the light box appropriate. Small controls on the back of the camera. Auto WB and manual WB, not initially clear but easy use when figured out. Screw used to secure fiber optic cable.  Neither comfortable or uncomfortable in the hand, box swivels, lightweight. Physical switches are hardware based and robust.