Toolkits
Video Otoscopes - Welch Allyn MacroView
Welch Allyn Digital MacroView Video Otoscope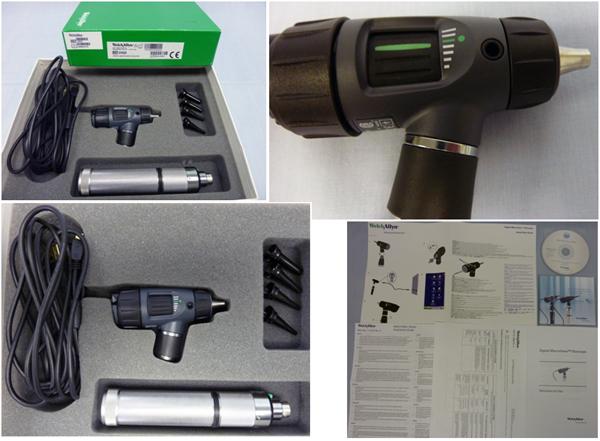 Product Name

Welch Allyn Digital MacroView

Model Name/Number

Welch Allyn Digital MacroView

Distributor

Welch Allyn

4341 State Street

Skaneateles Falls, NY 13153-0220

Manufacturer

Welch Allyn

4341 State Street

Skaneateles Falls, NY 13153-0220

Warranty

Digital MacroView free of defects in materials and workmanship for 1 yr after purchase. Bulb has a 3 month warranty.

Product Description:

Light Source Dimensions

N/A

Camera/Probe Dimensions

95g (0.2lb), H 7cm(2.8in) x L 10.2cm(4in) x W 3.7cm(1.5in)

Number of Parts

4- Video Otoscope Head, USB video cable, 3.5 volt WA power source & computer (not included). Computer must be running XP service pack 2 or later, have a viewing screen, and have a USB 2.0 port.

Cables Included

1 attached USB

Overall Type of Video Otoscope

Handheld Integrated

Speculum Type

Welch Allyn disposable and reusable

Inputs, Outputs, and Buttons:

USB, combined capture, zoom and rotate buttons.

Features

White balance (manual), zoom, image  capture button, rotate image

Connections

PC (via USB 2.0 cord only)

Optics:

Focus

Manual focus rings

Zoom

On screen viewing purposes only

Image Capture

Button on hardware

Video Standard

Digital

Camera Sensor

N/A

Video Outputs

USB 2.0

Memory

None

Power:

Power Source

USB cable & 3.5V Welch Allyn power source

Power Consumption

5.0 V DC USB & 3.5 V DC lamp

Battery Type

Welch Allyn 3.5V universal handle

Standards/Approvals/Safety: (EN, CE, FDA, UL, CSA, IEC, etc.)

UL, IEC, CAN/CSA, CE, EC/REP

Light Source:

Illuminator (Light Type/Blub Type)

Welch Allyn lamp REF 06500-U halogen bulb

Blub Life

16.5 life hours

Miscellaneous:

Software Description

Welch Allyn Viewer software & USB drivers

Care and Maintenance

Do not use in the presence of flammable anesthetics. This product has no user serviceable/replaceable parts except for the lamp. Not intended to be used in the eye. To minimize external Otoscope housing temperatures, on-time should not exceed 2 minutes and off-time a minimum of 10 minutes. Use only Welch Allyn Lamp REF 06500-U, allow to cool first, only remove lamp to change, and use protective eyewear when handling blubs. Re-calibrate and white balance the Digital MacroView after replacing the lamp.

Suggested Cleaning Procedure

Do not attempt to disinfect with glutaraldehyde products, ethylene oxide gas, steam or any other liquid or gas disinfectant. Do not apply alcohol, chemicals, or water to the lenses. Solutions entering the optical assembly could damage internal components. Use a dry cloth to clean the Digital MacroView system monthly.

Transportation and Storage

Shipping and Storage Temperature -20°C - 49°C and 95% non-condensing humidity. Operating temperature 10°C - 40°C, 30-75% non-condensing relative humidity, and 700 – 1060hPa altitude.

TTAC Evaluation Information:

Power Source For Camera

USB

Unit Power Source

USB

Power Source For Light

Battery powered  (requires proprietary WA battery charger)

Light Source

Halogen lamp

Cable Length (Measured from Otoscope Tip to Light Source)

USB cable length 123"

Pediatric Use

Yes

Insufflation

Yes

Rod Probe Component Present?

No

Support Flexible Scopes

No

Speculum Description

Wingtip Welch Allyn

Viewing Angle as Measured and Calculated by TTAC

Without speculum cover 21°,  with speculum cover on 16.5°

Depth of Field (Very Good, Adequate, Poor)

Very Good

Focus Ring Tension (Very Good, Adequate, Poor)

Very Good

Fine Grain Control (Very Good, Adequate, Poor)

Very Good

Lighting (Very Good, Adequate, Poor)

Adequate

General Notes On Device

Images captured using the disposable 4.25mm WA speculum cover. VO is attached to the computer using the included USB cable and capture software. This unit supports pneumatic insufflation. Handheld, light, compact, fits well in hand. Supports insufflation. Automatically white balances, but requires periodic white balance with paper clip. Interchangeable standard handheld Otoscope battery. Able to do one handed focus. Good for both right and left handed individuals. Preset focus, requires minimal focusing on the users part. Speculum ejector. Easily accessible, rechargeable, replicable battery. Has software capture buttons on back of unit. Has standard WA light adjustment ring. Feels very sturdy in the hand. Connectors firm.